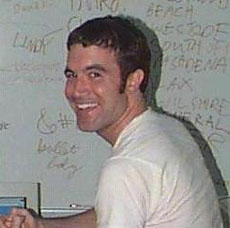 It was the decade when...
A place for friends became a cathouse for skanks.
The scene:
A Saloon in
Beverly Hills, California
.
We see Tom, an attractive man around 34, walk into the saloon. He is wearing a tight white shirt. He looks disheveled. He walks over to the bar and sits down. The bar tender (played by
Sam Elliot
) goes over to him.



Bartender:
Well, hello there son. From the looks of you, I reckon you could use a drink. Something a little stronger that a sarsaparilla perhaps?


Tom:
Give me a double of whatever your strongest whiskey is.


Bartender:
One of those days, is it? The clouds ain't got no silver lining? I've been there son. Here ya are.
(He hands him the drink)
Now, I ain't no head shrinker, but, care to share your troubles?


Tom:
It's all over. You know the expression the higher the climb the harder the fall?

Bartender:
I 'spose I've heard that once or twice.


Tom:
Well, I am living proof of it right here. The sword of Damocles has fallen. You, sir are looking at the man who invented the #1 social networking site on the Internet.

Bartender:
Whoa...you're the founder of Fa..


Tom:
No! You do not say that word in my presence. When I hear that word I seizure. So, no, Not THAT social networking site...the
(cough)
former #1 social networking site on the Internet.

Bartender:
Ah, Twitter! I love to tweet.


Tom:
NO! I'm talking about the MySpace! The site that was once poised to rule the Internet and by extension, the whole world. And I was
everyone's first friend Tom
. That was me.

Bartender:
Ah, MySpace. I remember that. I used to have a profile on there. Jeez, I haven't been on MySpace in years.


Tom:
Yeah, you and everyone else. I tell ya man, we were once
the most popular website in the America.
I couldn't get enough
press!
We were changing the way the world works. People were getting famous from our website alone.


Bartender:
Like that
Tequila lady
. She's mighty purdy.

Tom:
And Dane Cook went from
nobody to the top comic in America
thanks to our site, and
he's not even funny!
The music industry had been upended; new bands could advertise themselves and get famous with the click of a button. And getting laid became as easy as logging on and getting off.


Bartender:
It's true. I met a fine hussy or two off of MySpace.

Tom:
It was beautiful. This was supposed to be my decade. I went on Friendster in 2002, saw that I could rip it off and BAM!, we went from four million subscribers in December of 2004 to 100 Million by the end of 2006. Friendster was left in the dust. I was a king.

Bartender:
As my Grandpappy used to say, "Heavy is the head that is inflated with it's own bullshit.
"

Tom:
I don't think that's the right express...nevermind. You know when I thought we had won? Really triumphed? July 2005. Rupert Murdoch bought us for $580 Million. Half a Billion Dollars! MURDOCH! The kingpin of old media. The Aussie Oligarch. I thought, within a few years, we'd own Google, Microsoft and Yahoo. Steve Jobs would be licking my boot. I would rename "the Internet" "MySpace-Land." My goal: every human on planet earth would be my friend. And it was all coming true!


Bartender:
Son, sounds like you had some delusions of grandeur. As my Momma used to tell me, "Pride goeth before you totally make of an ass of yourself." What went wrong do you think?


Tom:
Everything! I mean, everything. I wanted to let people customize their own pages. Make them look however they wanted. Good idea, right? What ends up happening? You can't read half of the member profiles, the pages are so cluttered and ugly. MySpace began to have the the visual temperament of the
Speed Racer movie
or
PaperRad
art collective. And then...the trash. So much trash came out of the woodwork. I didn't know the world had so many trashy people in it...and I live in LA! It got so you were more likely to receive a friend request from a Ukrainian prostitute than anyone you actually knew. Bad things started to happen too. A English girl advertises a party at her parents house on MySpace...next thing you know the home is destroyed, there is ten of thousands of pounds of damage and we are the fall guys in the
British Press
. Our music site started to get
bad reviews
, but with competitors like ITUNES and Pandora it was hard to keep up. Our PR went from bad to worse. Disturbed teens started to
blog on MySpace
about their love of guns or death obsessions right before they went out and shot someone. That didn't win any points for us. The whole site started to feel like this saloon: dark, dirty, cluttered, redolent of whisky, with a tranny-hooker in the corner. And there was this other website called Face...well, a
competitor
who through some stroke of luck just took off.

Bartender:
Son, that's some hard knocks. Another Whiskey?

Tom:
A double.
(Bartender gives him the drink. Tom downs it.)
Now
experts are saying
that Murdoch was a fool to buy us, can you believe that! At the time we thought we were worth 4 to 5 Billion- we were underselling! Reports have Newscorp
losing 100 Million
due to loss of traffic. We are about to
lay off 420 employees
, 30% of our workforce. No one talks about us anymore. I don't...know...what I'm...going to do!!
(Break downs in sobs.)

Bartender:
Now, now son! Don't let all that bring you down. As my Pa always said to me, "When life gives ya lemons, throw em at the nearest asshole who crosses ya."

Tom:
What? What does that mean? Nevermind. I gotta go home. I'm too depressed. I'll just go for a swim in my pool of Evian water and then make love to the three Penthouse triplets currently bathing in my whirlpool spa.

Bartender:
All right then son, it's been a pleasure a talking to ya. I'd like to keep in touch.

Tom:
That'd be nice. It's been nice to talk to someone.

Bartender:
Great. I'll Facebook you tonight.


(Tom falls to the ground in convulsions. End of Scene.)


You AUGHT to remember...